Are you or someone you love looking to achieve the perfect smile? You don't have to be a celebrity or model anymore to get the bright and beautiful smile of your dreams with porcelain veneers. A veneer is a thin layer of custom porcelain laminate that is bonded to the surface of your existing teeth to conceal a variety of issues. Veneers can help with issues such as discoloration, chipped or cracked teeth, misaligned or misshaped teeth or even filling large gaps between your teeth. With porcelain veneers, you can get a picture perfect smile with natural looking results. Keep reading to learn more about the benefits of veneers in Calgary.
Why Choose Veneers?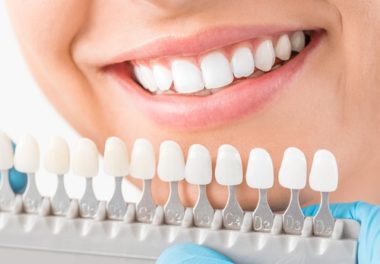 At Inglewood Family Dental, Dr. Arash Ravanbakhsh treats patients from all walks of life. He has helped countless patients enhance their smile, and gain their confidence back with porcelain veneers. Whether you are interested in concealing a single chipped tooth, or would like a full smile makeover, he can help. We start by providing a full evaluation, answering any questions you have, and offering treatment options catered to your specific needs. We understand this can be a big undertaking whether we're helping you repair a single tooth, or multiple teeth. We want you to be fully comfortable with both the procedure, and your dentist prior to beginning treatment. That's why we are happy to offer consultations and evaluations for all patients interested in porcelain veneers.
How Long Do They Last?
When properly cared for, your veneers can last for years to come. Veneers are constructed of a durable, stain-resistant material and built to last. Obviously, you must maintain proper oral hygiene and schedule your routine exams with your dentist to help maintain your veneers long-term. Many patients have had their veneers for well over 10 years. If you tend to grind your teeth at night, we may also suggest a night guard to help you protect your teeth while you sleep.
Financing Options for Veneers
At Inglewood Family Dental, we offer a variety of flexible financing options for patients to help make veneers affordable on any budget. Rather than put off treatment because you are concerned with the cost, we provide a variety of dental financing options that enable you to pay for your treatment over time with no interest. We also offer senior discounts, and follow the 2022 Alberta Fee Guide to help make dental care affordable for Calgary residents.
How To Get Started
Once you've decided that veneers are right for you, we encourage you to schedule a consultation with Dr. Arash Ravanbakhsh at Inglewood Family Dental. He will personally meet with you to discuss your goals and expectations, and customize a treatment plan specific to your needs. Whether you want a bright white smile, or would like a more natural look, we can help you accomplish your goals. Prior to starting any treatment, we will provide a precise quote for the procedure as well as available options.
Getting dental veneers is not painful, but some patients may experience slight sensitivity while the tooth is being prepared. If you have dental anxiety, we can offer a local anesthetic or sedation options to help ease your nerves. At Inglewood Family Dental, we pride ourselves on the comfort of our office and try to make every patient feel as comfortable as possible during their visit.
Why Should I Choose Inglewood Family Dental?
Dr. Arash Ravanbakhsh has earned a reputation in Calgary for providing quality dental care in a friendly and caring environment. We understand that patients have busy lives, so we've made ourselves available for evening and weekend appointments to help accommodate your busy schedules. New patients are always welcome, and no referral is ever needed.
If you or someone you love is considering veneers to enhance your smile, look no further. Contact Inglewood Family Dental today to arrange your consultation and let us help you achieve the smile of your dreams!
Follow us on Facebook for daily updates & our latest promotions.