Are you or someone you love considering getting dentures? Maybe you already have them, or know someone who has them. Chances are, you likely have questions about them. At Inglewood Family Dental, we are here to help answer your questions about Calgary dentures so you can determine if they are right for you, how to properly care for your dentures, and how they can improve your smile, function, and oral health. Keep reading to learn more about the Calgary dentures we provide.
Types of Calgary Dentures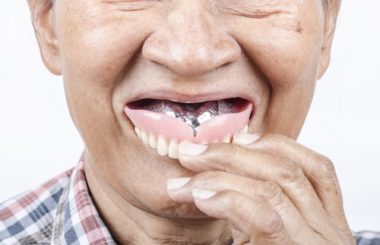 Dentures are synthetic teeth and gums that are specifically molded to fit your mouth to replace your missing teeth. Dentures come in a variety of different types, including partial dentures which can be used to replace a few missing teeth, to full dentures that can replace all of your teeth. Dentures have come a long way in recent years, and are often made from a hard resin material that is very durable and built to stand the test of time. While the supporting structure of the denture is durable, the material used to make the teeth can be more fragile, and should be properly cared for to ensure longevity.
If you are self-conscious because of some missing teeth, or have a hard time eating the foods you love due to corroded or missing teeth, dentures can help you regain your confidence and eat the foods you love without worrying about damaging your teeth. Say goodbye to those bothersome teeth, and say hello to your new strong, beautiful smile with Calgary dentures.
Partial dentures are often recommended when your existing teeth surrounding the missing teeth are not strong enough to support a dental bridge, or if you have more than one missing tooth.
Full dentures are often recommended when you are looking to replace all of your teeth on the top of your gum line, bottom of your gum line, or both.
Both denture options allow you to remove them for easy care and maintenance.
Implant Retained Dentures
As you can probably guess by the name, these types of dentures are supported by dental implants which is anchored to the jaw and can be used to replace as many teeth as you would like. These dentures consist of a titanium post, and a porcelain crown which mimics the appearance of your natural tooth. These are often recommended when a patient doesn't have any teeth in their jaw, but has enough bone structure to support a dental implant. These types of implants don't require any adhesives to keep them in place as they fasten directly to the implants anchored in your jaw.
Caring For Your Dentures
Proper care and maintenance of your Calgary dentures is crucial in improving the longevity of your dentures.
Always be sure to handle your dentures with care as the teeth can be fragile if dropped or mishandled.
You should also brush your dentures at least twice a day, just like you would your natural teeth.
You should always remove your dentures when sleeping so you can avoid damaging them, as well as to give your gums a rest.
It is recommended to place your dentures in a glass of warm water to prevent them from drying out or warping while you sleep.
Lastly, you should always make sure to rinse your dentures thoroughly prior to putting them back in your mouth.
Dentures are a great way to replace missing teeth and help you regain your chewing function. Despite the common misconception that dentures are only for senior citizens, we have helped patients from all walks of life regain their confidence with Calgary dentures. Whether you are a hockey player, car accident victim, or suffered a genetic disorder, contact Inglewood Family Dental for a consultation to find out if our Calgary dentures are a good fit for you.
Follow us on Facebook for daily updates!